Junk Car Portland – Get Cash For Your Junk Car
If you need to junk your car in Portland then look no further. Junking your car is a piece of cake when you let the Junk Car Boys take care of you. We are quickly becoming one of the largest auto buyers in Portland, Oregon. We have bought literally thousands of cars out of the Northwest area, and zero complaints that we haven't fixed. If there is ever a problem…then it becomes our #1 concern. We are so passionate about our business and our customers. We are so happy that you have chosen to do business with us, and we want you to tell your friends about us…so it is very important to us that we make you very happy.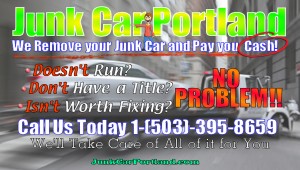 So what exactly is it that we do? Well that's very simple…we pay cash for junk cars in the Portland & Vancouver metro area. We usually drive up to 50 miles around Portland. So Hillsboro, Gresham, Beaverton, Vancouver WA, Ridgefield, Camas, Washougal Etc. We buy cars from a pretty wide area.
We buy anything and everything when it comes to automobiles. Running or not, Wrecked or pretty, old or not old. We buy cars and we buy junk cars. We love Portland so much, and we know how environmentally conscience everyone is around the city. That's why we love providing this service, because its all about recycling!
Just give us a call and we will give you a quote over the phone. If you like what you hear, then we will schedule a time to send a tow truck. Our tow driver will show up at your house, and pay you cash for your junk vehicle. It really is that easy. We take care of all the paper work, and our driver will walk you through the process. The whole buying process takes average 10 minutes from show up time to the time of the tow truck driving away with your vehicle.
Remember the name JUNK CAR BOYS when you think of giving junk cars for cash.
Call Today
503-395-8659