We Buy Cars In Atlanta – Sell That Car For The Most Cash
A car is a trusty tool when used and maintained properly In Atlanta. There comes a time that it just simply breaks down, And when it does, it's either you have it repaired or it would just sit there in your garage as some sort of an albatross. To make matters worse, the bill associated with repairing your car is so high that it's simply not worth it. Your vehicle would just sit there in your garage or backyard. Have you ever thought of finding a way of dispatching it properly? Then this is exactly for you.
The first thing that comes to mind when trying to get rid of a junk car is to post it on a classified ad page or website. And while it is a great way to attract potential buyers, there are no guarantees with this method. Sometimes, it won't get seen by your target audience. And sometimes, some of these people will give you headaches. There are people who will try and low-ball you on deals, and then there are joybidders who pledge buying your item then suddenly won't show up during transaction day. And if you're not lucky, you just might encounter an individual with shady intentions because of it.

To avoid the headaches and problems associated with selling junk cars, some people go for junk car buying companies in Atlanta. Most of these companies are affiliated with the auto salvage business, and are using these cars either for use as restoration projects or as "parts cars". But the problem is, the consistency of these companies is questionable at best. In fact, it's noted that around 90 percent of these companies are unlicensed and are practicing some illegal maneuvers.
Take for example their non-requirement of papers. While for some, this sound like a very convenient way to dispose of their car, it's a risky proposition in itself because you'll never know what's going to be done to the car afterwards. In fact, there are cases wherein traffic tickets, accidents, and even arrest warrants are tied to you because the papers say it's still your car, months or even years since you relinquished ownership of it.
So given these potential perils, what is your best option then? Your best option would be working with us. We buy junk cars and we are licensed to do it. What does the license mean? It's a guarantee that we know what we're doing and we'll stick to laws in order to legally obtain the rights to your car.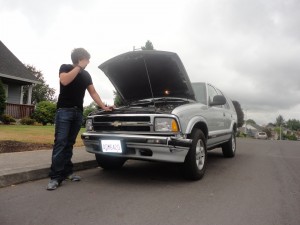 Perhaps you have fear of complications that's why you're hesitant to work with licensed companies. But surprise, our process is actually incredibly easy, designed to streamline the process of releasing ownership of your junk car the right way. All you have to do is give us a call and fill up a quote. We'll then make a bid for it. If you agree to the price, we'll pay you exactly that amount when it's time to tow the vehicle. And we'll even arrange all the requisite papers for you!
Want cash for junk cars? Give us a call today.
1-855-355-7243